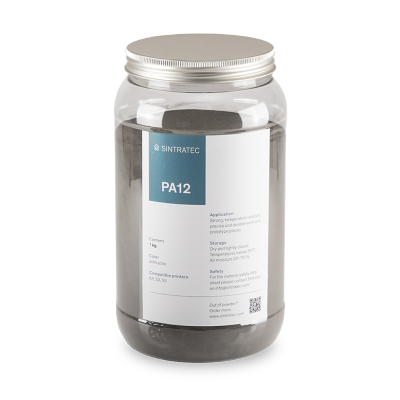 High Performance Polymer Powder
PA12 nylon is the most commonly used material for industrial SLS 3D printing. The polyamide powder produces strong and durable parts that are ideally suited for prototypes as well as for end-use applications.
Polyamide 12 possesses outstanding mechanical properties that make it a great choice for a variety of use cases. If your application requires a high level of robustness and strength, then you should take PA12 nylon into consideration.
Tensile strenght
max load
The given values were obtained by independent testing of parts printed on a Sintratec S2 system. Results may vary according to factors such as part geometry and process parameters. Sintratec does not make guarantees on material properties.
One powder – countless possibilities! Learn about the potential of PA12 and why it is such a reliable and robust choice in the field of Selective Laser Sintering (SLS).
The range of applications for PA12 is very diverse. Take a look at how some of our customers use the material and get inspired.